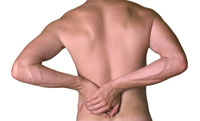 Low Back Pain Program
Program Details
(
Back to Programs
)
The goal of this program is to help patients better manage their low back pain. This may include an exercise program, patient education, and/or manual therapy. Treatment providers in the program include: Occupational Therapist, Physiotherapist, Chiropractor, and Kinesiologist.
This program is open to any EWFHT patient experiencing any type of low back pain.
Exclusions from the program: back pain caused by a motor vehicle accident or back pain caused at work with an active WSIB claim.
Referral to the program: referral from family physician or other clinician of the EWFHT.